ENG ver.
Hello, this is Pooh.
I'd like to share my experience from a recent 2-day trip to Sapporo.
It was my second time visiting Sapporo, as I hadn't been there since my high school field trip.
During this short trip, I enjoyed exploring Hokkaido's local cuisine and tourist spots.
Flight: ANA 065 Haneda 13:00 – New Chitose 14:35
I used ANA flight from Haneda to Sapporo. I had booked a package deal with a hotel during a previous ANA sale.
The round-trip airfare plus hotel accommodation cost 42,800 yen per person.
I was surprised to find that Tokyo and Sapporo are relatively close, with just a 1.5-hour flight.
The flight passed quickly as I watched a drama, and soon we arrived at Chitose Airport.
Accommodation: Sapporo SORARIA Nishitetsu
I stayed at the "Sapporo SORARIA Nishitetsu Hotel" located conveniently near Sapporo Station.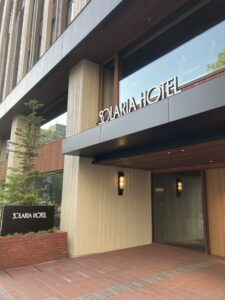 I was pleasantly surprised by the luxurious atmosphere, which exceeded my expectations for a business hotel.
The entrance was stylish, and the room I booked, a double, was clean and spacious, providing a comfortable stay without feeling cramped even with luggage.
Enjoying Sushi at "Machi no Sushiya Shikihana-maru Tokeidai-ten"
After checking in at the hotel and taking a short break, I wasted no time in exploring local cuisine.
I headed to "Machi no Sushiya Shikihana-maru Tokeidai-ten" near the Clock Tower.
This restaurant belongs to the Nemuro Hanamaru rotating sushi chain, and here, customers place orders at the counter using an order sheet.
I started with a delicious flower crab miso soup and a selection of premium sushi.
The pieces were thick and satisfying, and each plate cost around 300 to 500 yen.
Considering the quality, it felt reasonably priced, even though I usually visit conveyor belt sushi chains. My friend and I enjoyed a fulfilling meal for around 7,000 yen.
After leaving the restaurant, we admired the Clock Tower, a charming building located among the skyscrapers, making it possible to take photos with a backdrop of greenery.
Indulging in "Shime Parfait" at "Parfaiteria PaL"
In Sapporo, there's a trend of having "Shime Parfait" as a dessert after drinking, rather than having ramen.
Around 6 pm, even though it was still early for dinner, we decided to try the "Shime Parfait."
The famous shop, "Paufeteria, Coffee, Sake, Sato," located nearby, had a long line, mostly of young women who seemed to be there for the parfait specifically. We estimated a wait of at least an hour and decided to find another place.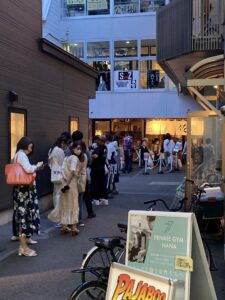 We stumbled upon the "Parfaiteria PaL" known as the birthplace of "Shime Parfait," and decided to give it a try.
I opted for the "Pistachio and Chocolate" parfait, which had a generous portion. Despite already being full, I couldn't resist finishing it, as the sweetness was just right.
They also provided a paper with a list of ingredients on the parfait, making the experience even more enjoyable.
Having tried it, I thought that having a parfait as a dessert after drinking was a great idea. It complements the night out nicely, as it's not heavy and leaves a refreshing feeling.
Strolling from Susukino to Sapporo Station
After the parfait, we took a leisurely stroll from Susukino to Sapporo Station.
During the walk, I was impressed by how compact Sapporo felt as a city.
Eateries, shopping malls, and underground shopping streets were concentrated in a close area. Within 10 to 20 minutes on foot, you could easily handle your errands. The city's central area was well-connected with JR trains, subways, buses, and streetcars, making access convenient.
Construction work was evident in the city center, and it seemed that Sapporo would continue to grow and become even more appealing in the future.
Day 2: Pilgrimage to "Hiragishi Plateau Park"
You might recognize this landscape if you're a fan of the show "How Do You Like Wednesday?".
I visited the "Hiragishi Plateau Park," known as a sacred place for fans of the Hokkaido local TV show.
As a long-time fan of the show, I wanted to see the park since my student days, and finally got the chance in Sapporo.
There was even a monument at the entrance of the park, donated by the Hokkaido Television (HTB) when it moved its headquarters.
It was an enjoyable experience to partake in this pilgrimage.
Visiting the "Sapporo Beer Garden"
Afterward, we returned to Sapporo Station and took a complimentary shuttle bus to visit the "Sapporo Beer Garden"
The building retained some of its original brickwork, giving it a historic ambiance.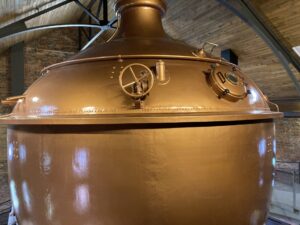 Inside the beer garden, there was a free museum where we learned about the history of Sapporo Beer.
The exhibits were fascinating, showcasing beer bottles from the era of Dai Nippon Beer Co., the predecessor of today's Sapporo Beer, Asahi Beer, and Ebisu Beer. There were also displays of beer bottles that lost their brand names due to beer rationing during wartime.
At the exit of the museum, there was a tasting space, where we enjoyed a glass of beer.
With each glass priced at around 300 yen, it was an affordable way to savor authentic beer. I highly recommend it.
Lunch at the Specialized Soup Curry Restaurant "Suage"
For lunch, we decided to have soup curry.
I had heard about "Suage" a restaurant that frequently collaborates with Seven-Eleven, and we tried their soup curry in the restaurant.
Although we arrived during a slightly busy period, we only had to wait for a short while.
I ordered the soup curry with an additional topping of lamb.
The lamb had no unpleasant smell and the spices were well balanced, making it incredibly delicious.
Purchasing "How Do You Like Wednesday?" Goods at "On-chan Terrace"
Our last stop was the "On-chan Terrace" located inside the newly relocated Hokkaido Television (HTB) in the city center.
Next to HTB's reception, there was a Tully's Coffee shop, where you could buy HTB goods focused on "How Do You Like Wednesday?".
You could find a wide range of On-chan, HTB's popular mascot character, and "How Do You Like Wednesday?" merchandise that is not available in Tokyo. It's a must-visit for "How Do You Like Wednesday?" fans.
You can enjoy a cup of coffee while browsing through the selection.
I also bought some goods for a friend who is also a fan of the show.
ANA 078 New Chitose 19:30 – Haneda 21:05
Finally, I bought some souvenirs at Chitose Airport, making it the last stop of my trip.
The airport felt like a shopping mall with many stores, yet it blended naturally with the airline counters and security gates, creating a unique atmosphere.
This trip to Sapporo allowed me to fully enjoy Hokkaido's local delicacies.
Even with just one night and two days, I was able to cover a lot, making me realize that it's possible to explore a destination even with limited time.
Moreover, I was surprised by how close Tokyo felt to Sapporo. Since remote work is an option, living in a well-connected city outside of Tokyo became a potential choice for me.
This journey served as a hint to consider how I want to spend my future.
Traveling is always enriching, providing various experiences and learning opportunities, making it truly enjoyable.
I wonder where I'll go next.
Until then, see you later.
Pooh
JPN ver.
【旅行】札幌に行ってきました(1泊2日)
JPNver.こんにちは。ぷーさんです。先日、札幌に1泊2日で行ってきましたので...